​
This story begins, as a lot of stories from people here begin. I just had acquired my licence, and lets just say I used the power it conceded me endlessly. As anyone who has a short time from receiving their licence I wanted to drive absolutely everywhere and in every possible scenario. Although most scenarios people do end up driving in are either going from your high school to a food joint, or to take your mother for a gallon of milk (Plus chocolate milk for you). For me though, just 2 months after I got my licence I had already pushed cars to their handling limits, made 0-60 runs, demolished tire sidewalls, and made my passengers cling on to the cars interior plastics just for balance. And the ones responsible for letting me do all this are of course my favourite pals of the automotive industry, the folks of VAG!
So I had just acquired my licence and got the keys of my mothers (later to be my sisters) 2011 Jetta 2.5 Automatic. Yes, the one with the torsion beam, horrid plastics, rear disk brakes, and a low-income, less sophisticated attitude than the car it replaced. I loved it. Obviously, as any high schooler with the plastic card, I was the school bus. I dropped off everyone, I took all of us to where we would go, and I had received a wave of respect that was 100% superficial but 120% satisfactory. That April afternoon we were looking for things to do. Anything really that would keep us interested for a couple hours and create conversation for a couple more. What we did that day though, is still part of conversations today, it still marked my love of driving, and it officially implanted my love for Volkswagen Auto Group.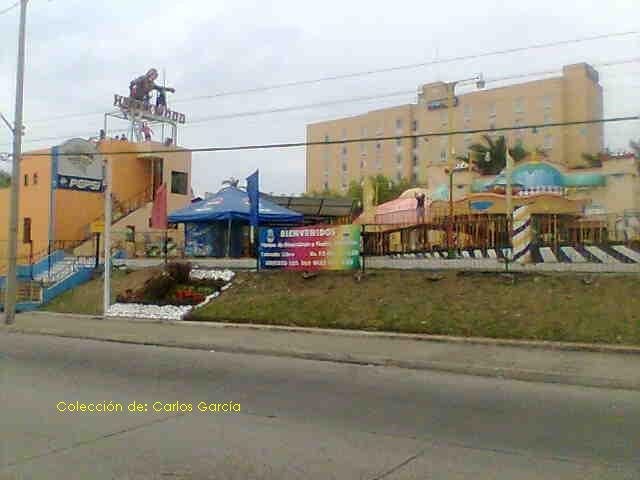 Hollywood Park in all its beauty. ​
​We were driving around town after getting something to eat, and we didn't want to hang around anyones house. We had a car now, the world had to know. As we went by the streets, by the beggars, and by the eruptions of the badly paved avenues we saw an old friend of ours. "Hollywood Park". You can probably imagine what a place called "Hollywood Park" in Mexico would be like. There is a huge statue of a Gorilla  some flashy colors around, and an array of child games which were usually smelling like pre-puberic hormones. What we were always interested in though was the unbelievably short but still interesting Go-Kart track. It was nothing special, just a full circle with some old knackered, butch job Karts that wouldn't exceed 15 MPH whilst turning your coxis into powder. That place is now on its last legs, and the only thing keeping it alive is that race track with those Karts. Seeing we had nothing better to do, we got there to have some good old fashioned fun, but we passed through something that caught my attention. The Walmart parking lot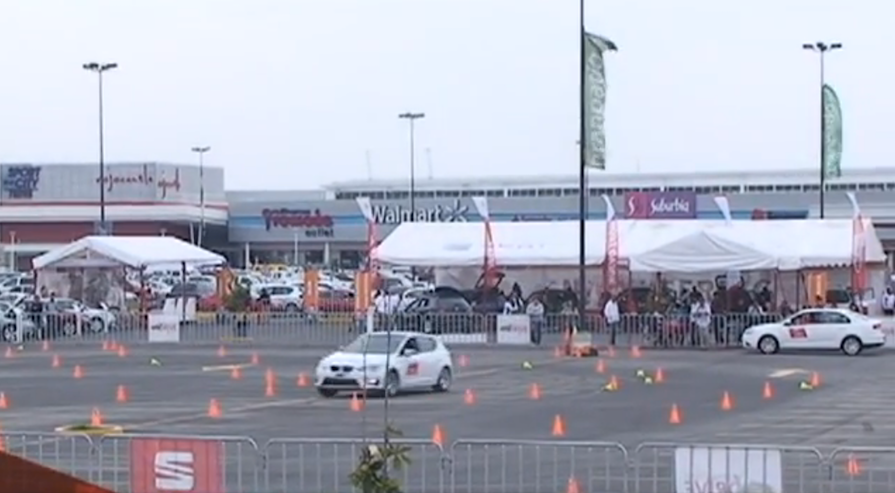 This wasn't actually the Walmart of my town, but you get the picture. ​
The Walmart parking lot is a place where the most interesting thing that can happen is car meets, or drag races with the mobility vehicles. Our local Walmart though was the place where Seat decided to make a truly wonderful event called "Urban Test Drive". Urban Test Drive is simple: Seat formed a circuit (Similar to those in AutoX) and provided an example of every car in their lineup. Also, they provided 5 rally drivers. These 5 rally drivers would drive you around enthusiastically in any car of your choice,  and after they made you pee yourself and utter profanities to every creature living on earth it was your turn. Your turn to try and make him pee, to really abuse of their cars, and to let go of your senses for 5 minutes. Let me tell you, those 5 minutes were some of the most exciting in my short years of life. But more on that later.
As we pulled up in the parking lot of Hollywood Park I started to think when I would go to give the Urban Test Drive a try. Then I regretted it as I climbed in on the pink Go Kart being the last one available. After we paid a unbelievable amount of money, (Reasonable this being the only attraction that actually attracts) We went round and round and my superior knowledge of vehicular racing became present. I came in at first! But the second round my friends (as always) used violence and aggression as their only resource to drive. It resulted in a couple crashes and us getting quite kicked out, but we had a cool story to tell and something to chat about for quite some time. But now, we had nothing to do and the sun was still strongly pumping its UV rays. As we pulled out of the now Banned Park, the decision of what to do came up immediately. A friend decided to go to blockbuster, which was solely to waste time. Pulling up to Blockbuster on the street in front of Walmart I just say the little spanish hatchbacks being seriously abused and enjoying the aura of it all. The thing was, it wasn't only me gawking at the sight. As I turned around they all saw me with an eager look and a unison shout "WE HAVE TO GO THERE".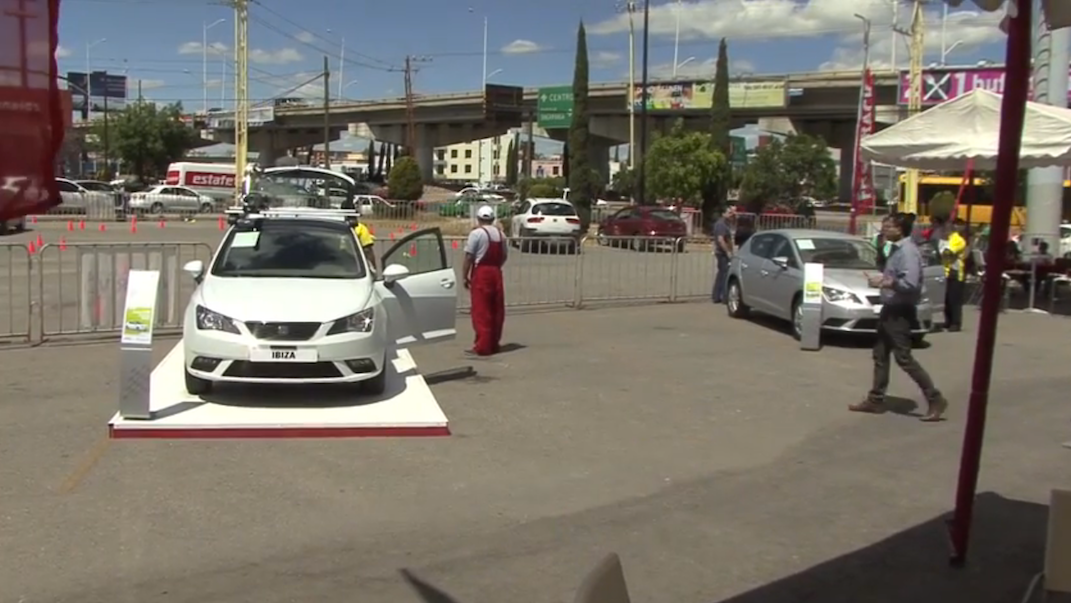 Gazebos, desks, and rally drivers. Just Paradise. 
I was a bit reluctant to go, since I reserve all types of car related events to go with my dad (someone who actually knows about cars) but I accepted anyway which was the the best choice. We arrived to the Gazebos and the desks with all the Seat salesman. At the right, 5 keen rally drivers standing in line with every car of the Seat lineup patiently waiting for their good old hoon. My first thought was to just get a look at the cars, and spend time getting free drinks. But immediately one of my more "bold" friends went straight to the inscription desk to find whatever way possible to be on a ride with the rally drivers. The attendant at the desk immediately took out a long contract with a dotted line at the bottom. All of this was deeply troubling for me, I mean, I started reading some of it and it stated all kinds of medical preventions and insurance and big boy stuff I didn't want to get involved in. My friend signed the paper the second he got it, and made a line to choose the first car. I followed him quickly, still nervous about the contract, and heard the words "Leon FR please".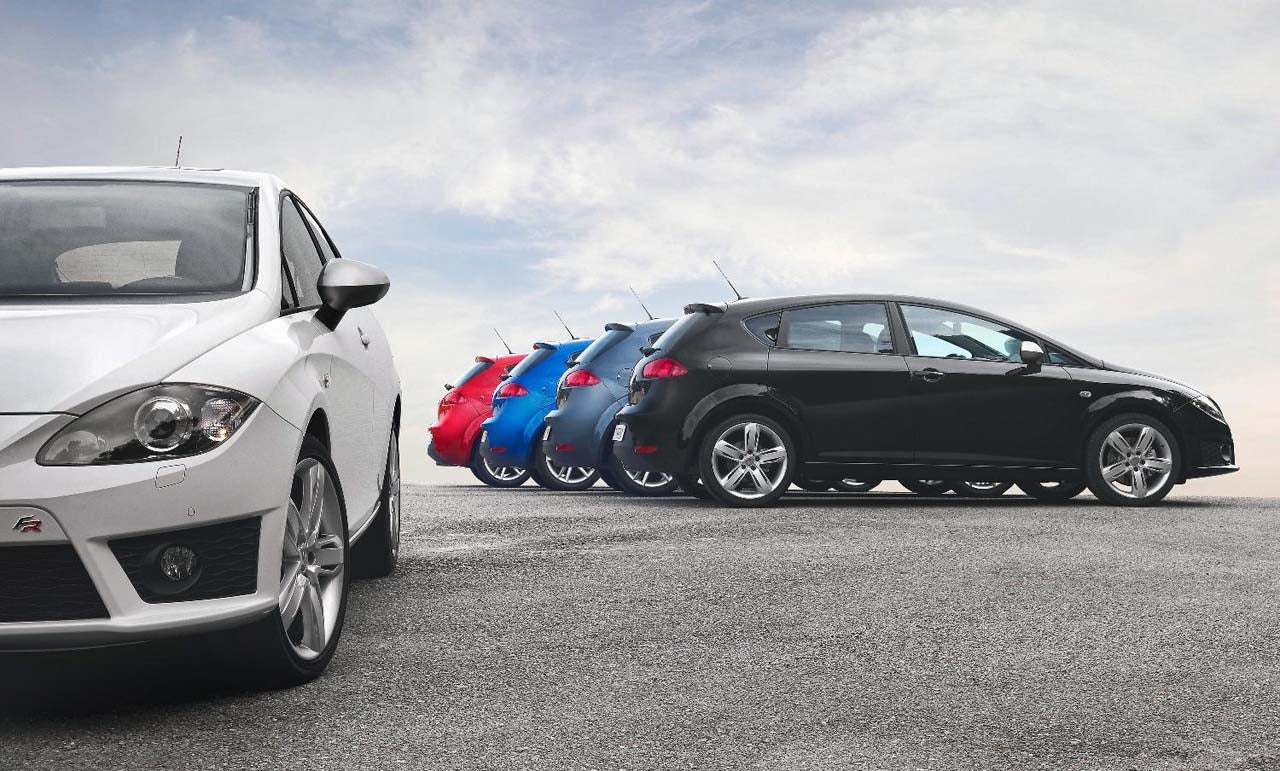 Our Example was bright red with white seats. After the run, they might've turned a bit brown. 
The rally driver obliged, and the red hatchback came in. Powered by a 2.0L Turbocharged engine and a DSG box it was pretty damn quick off the line, pretty damn quick through the corners, pretty damn quick braking, and pretty damn quick for us to keep ourselves from cursing. The videos below are some takes of the Leon drive and although they are shouts in spanish you can probably guess it wasn't something you'd say at your girlfriends house the night you meet her parents.
Then came my turn. I obviously knowing a lot about cars got into the seat and adjusted my position accordingly. And, just for good measure, I asked if I could use the paddles. The rally driver told me it was a lot better to start in sport mode, and so I did. This was the first time I had ever driven a turbocharged car, and man was it a revelation! The power was nowhere, then right here, besides you, and every corner was clinging on for dear life. The car loved it, but I loved it more and just wanted to keep going. Then it was my friends turn, which I thought he would take it a bit easier since he doesn't drive on a regular basis. He thrashed the hell out of it and did what everyone tries to do in Mario Kart (Or the Go-Karts we just had gone for that matter). Full throttle, and any understeer can be corrected with more steering. Lets just say the rally driver didn't let him go for his 2nd run. He did say though that we could have a go in the stick shift Ibiza, and so we did.
​​
Rally driver be like: Im not even trying. 
The Ibiza was much smaller, and more compact. This time, the rally driver spun the car and we all laughed our head off at the amusement of it. Its really funny when you realise that pretty much any car can make you spin when cornering vigorously, but when the company shows you their car enjoys it, then the cool factor dramatically increases. Then came my friend, who stalled it twice, then stopped giving a damn and dumped the clutch at 7000 RPM. The rally driver wasn't even mad. Then It was my turn, and of course I didn't stall, but had to get used to shifting quickly and moving my large hands with the same agility as the spanish 5 door. It was the same amount of fun as last time, and we wanted to keep doing it all night long.
​
When we finished, the rally drivers gave us a good handshake, each salesman gave us a card, and we went out with a smile on our faces as well as an itching desire for a Seat. This event is what made me officially fall in love with VAG. They do these events to show that their cars are not only dynamically superior, but offer you much more than the competition and I fell for it. Since then, I wanted and ended up with 2 more VAG products, because I will never forget what that company did to us that night. Let us, almost barely legal drivers, to go wild with our car of choice, taught us a lesson on driving dynamics, treated us like adults, and made us spend a damn good time. But the best thing of all?
The Go Karts were 2 Dollars per person, this was completely free. ​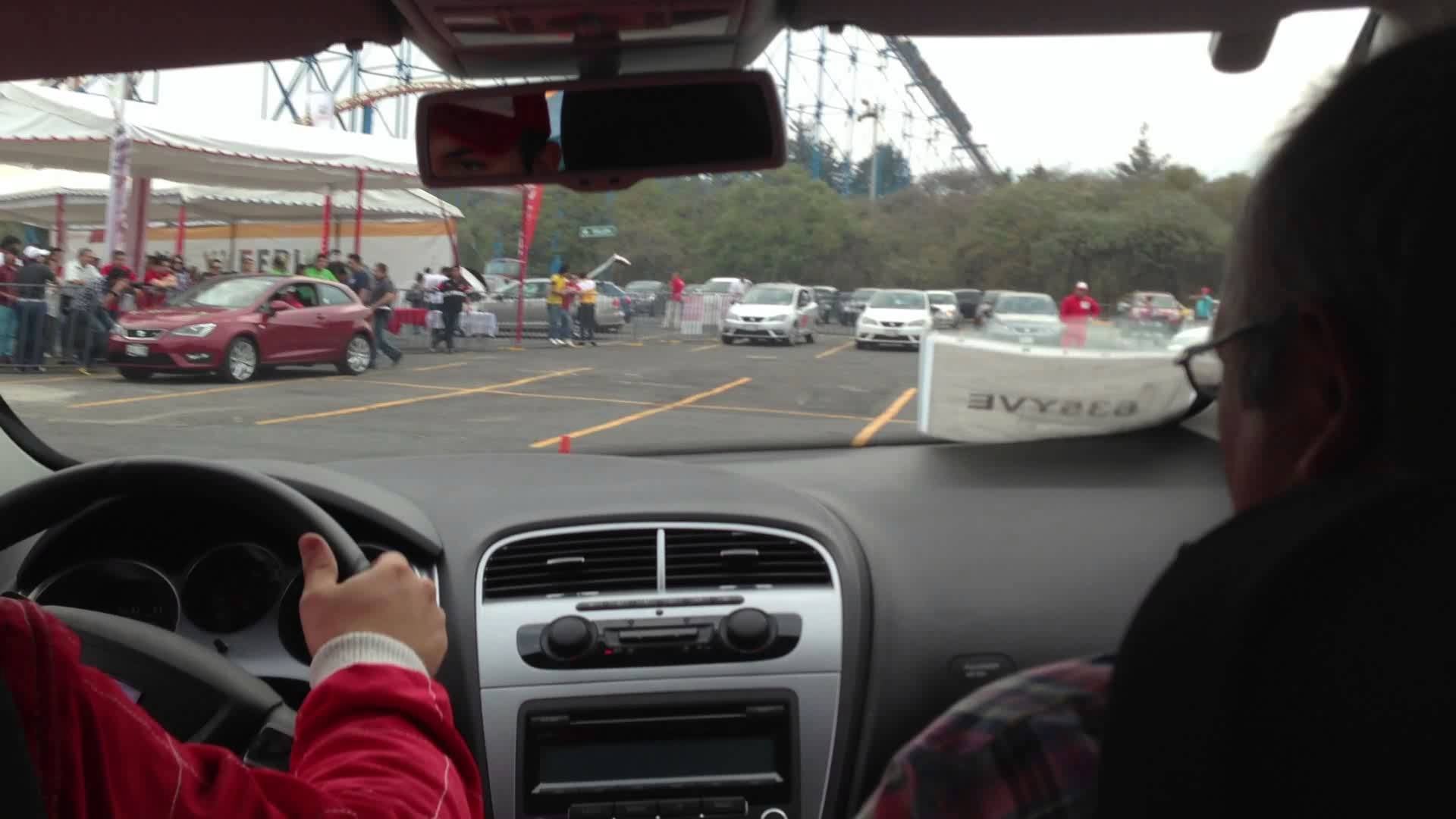 ​
Comments
comments